Wedding Stationery Planning
Your dream day through wedding paper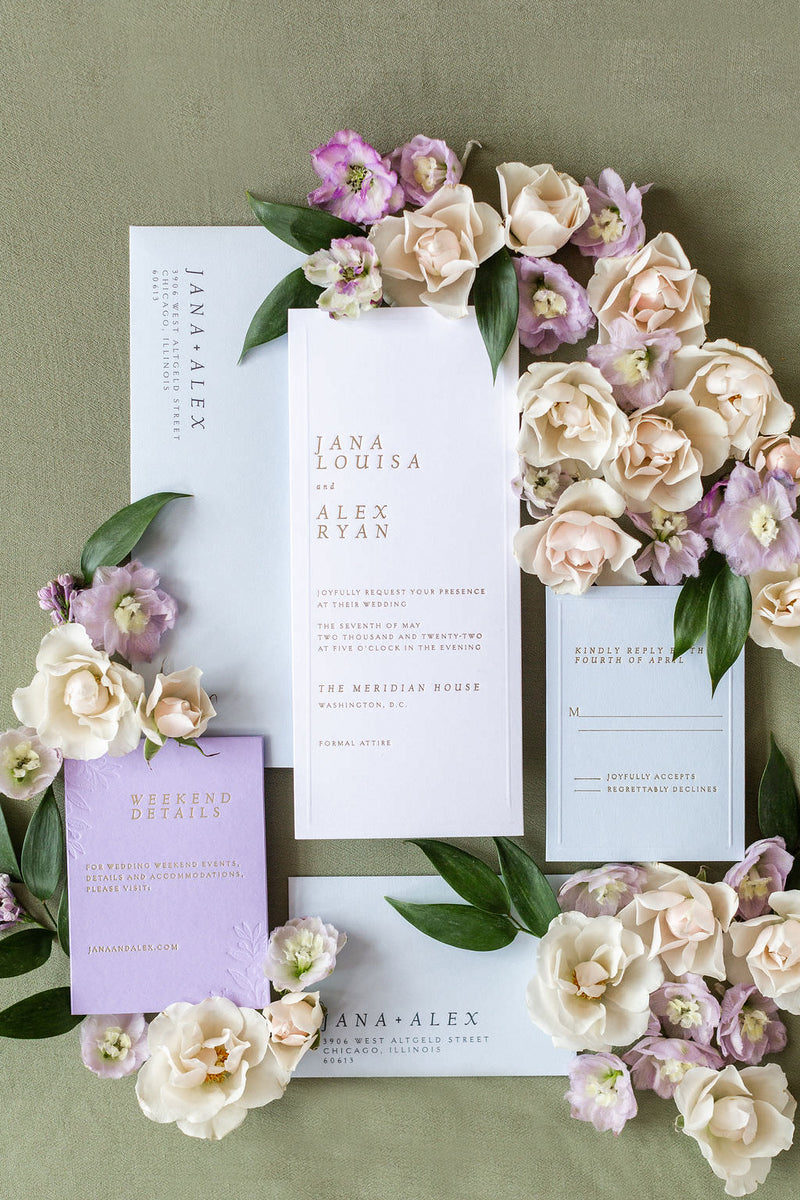 The important first impression
Your wedding invitations are the first touchpoint of your wedding, establishing the tone of the entire day for your guests. We obsess over this moment, creating handcrafted, elevated luxury wedding paper with meaning.
step one - booking your stationer
If you are planning on sending save the dates, we recommend booking your stationery soon after your engagement. We are usually fully booked for popular wedding months up to a year in advance!
After inquiring about our availability for your wedding date, we schedule a design consultation to discuss your wedding vision, color palette and budget. After, we send a custom proposal detailing our discussion, the invitation packages that are the best fit and possible print methods and enhancements.
After booking, we create a custom timeline detailing the design and proofing process and your expected mailing date.
step two - The fun begins! We start designing
After booking, we schedule a formal design discussion, reviewing your wedding day designs in detail and how to bring your color palette and style to life.
This is where all the personal details and touches come in, from incorporating your favorite colors, to wedding venue illustrations and extra special touches such as vellum wraps to silk ribbons.
Then, we create a personalized design guide and realistic full-scale mockup of your stationery, featuring your color palette, paper options, mood board and your invitations.
After signing off on your design, we head into production! Depending on the print methods and paper types in your suite, invitations can take from three to five weeks to arrive back to me. We ensure everything is perfect before shipping invitations and your keepsake gift to you.
step four - day of details
It is time for our favorite part! Day of Details let us translate your gorgeous invitations into special moments and touchpoints for your guests at your ceremony and reception.
We follow the same design process as for your invitations, starting with a design discussion, proposal and full-scale mockup.
Save the dates through to every detail at your reception
Start researching your dream wedding stationery & ideal budget
Book your wedding stationer
Send save the dates
Begin the design process!
Let's chat colors, inspiration and final designs.
Send invitations off for printing & production.
Discuss day of details
Start envelope calligraphy
Final guest lists means designing all the day of details and calligraphy elements!
ONE-OF-A-KIND WEDDING INVITATIONS & CALLIGRAPHY
WEDDING INVITATION AND ORDERING GUIDE
From our ready to wed invitation collection to fully custom invitations and day of details, we create beautiful, timeless and memorable moments for your wedding day through fine papers, print methods and calligraphy.
READY TO WED COLLECTION
Our ready to wed collections are ready for their journey to your guests. Curated and created with the colors and enhancements that make for a perfect wedding invitation pairing, our ready wed to collection is a seamless way to get your wedding festivities started at a lower price point and a faster turnaround time than custom invitations.
Each invitation set within our ready to wed collection has a unique set of invitation options and features from envelope liners to gorgeous colored paper and custom venue illustrations.
ORDERING YOUR INVITATIONS
After placing your order, you will receive a form to fill out with all of your wedding details.
Creating your Invitations
As soon as we have your wedding details, we begin creating your design proof, which you will receive within three business days via email. This proof contains a realistic version of your full invitations suite with all add-ons and embellishments.
Our ready to wed collection includes two rounds of changes to your wording. You will receive your changes within three business days. If additional revisions are required, additional charges will apply.
Printing, Production & Assembly
Once we receive your final proof approval, we go into production! We pride ourselves on printing almost all of your suite components in house and will have everything ready for you within three to four weeks. Our ready to wed collection arrives to you unassembled unless otherwise noted.
If you have purchased any additional enhancements or assembly options, this may add additional time to your order.
Your ready to wed collection invitation suite does not include assembly. We do apply enveloper liners.
Postage is also not included.
PRINTING, PAPER & ENHANCEMENTS
FLAT OR DIGITAL PRINTING
An affordable printing method without any impressions or raised lettering.
LETTERPRESS PRINTING
A custom plate is made for each piece within your invitation suite and is impressed with ink into each piece of paper by hand.
FOIL PRINTING
Similar to letterpress, a custom plate is made for each invitation piece and is pressed into the paper with a matte or shimmery foil.
Our in house paper is 120# ultra white, eggshell cardstock and our colored paper is #110 pound smooth cardstock. Our letterpress and foil invitations are often printed on duplexed, or double thick, cardstock to allow for deeper impressions.
Our add on and enhancement options add texture and layers to your invitations. We offer:
▹ Envelope liners
▹ Ribbon and twine
▹ Vellum wraps and belly bands
▹ Digital and calligraphy envelope addressing
▹ Wax seals
CUSTOM WEDDING INVITATIONS
YOUR CUSTOM WEDDING INVITATIONS
Our custom wedding invitations tell your wedding story through detailed artwork and designs based on your vision. We love creating an experience for your guests from the first save the date through to the end of your reception.
First, INQUIRE about our availability for your wedding date and book a consultation. To move forward with holding your date, we require a signed contract and a 50% deposit.
After booking, we create a custom design timeline detailing the design process, proofing steps and your expected mailing date. Then, we create a design guide featuring your color palette, mood board and a basic sketched outline of your invitation.
Once we have all wedding weekend details, we create your wedding invitations. You will receive a digital layout and have final approval before production.
PRODUCTION & DAY OF DETAILS
Once your invitations arrive, we ensure everything is perfect before shipping everything to you and then it is time to discuss your wedding day details!
DAY OF WEDDING DETAILS
YOUR WEDDING DAY OF DETAILS
Working with us on your wedding day and reception details is a completely customized design experience. We bring a cohesive vision starting with your wedding invitations through to the last detail at cocktail hour.
Our wedding day of details are available on wood, acrylic, paper, glass, mirror, chalkboard and more.
▹ Wedding Signs
▹ Menus
▹ Place Cards
▹ Bar and Signature drink signs
Our modern wedding invitation suite features elegant 100% cotton cardstock with black ink digital printing or letterpress printing. Each invitation...
Read more
A custom monogram with a twist, bringing elegant and modern details together to create the perfect, modern pairing.  Features gorgeous custom detai...
Read more